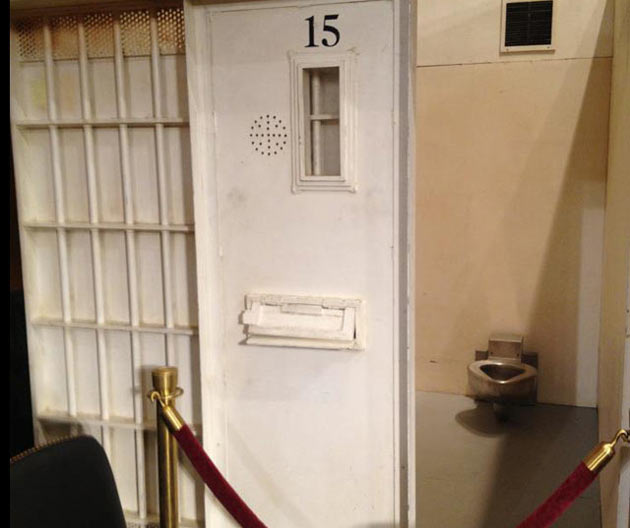 Fight disinformation:
Sign up
for the free
Mother Jones Daily
newsletter and follow the news that matters.
The cell placed at the back of the hearing room in the Dirksen Senate Office Building was a pretty accurate replica of a real isolation cell—the kind that exists in supermax prisons and solitary confinement units all over the country. It measured about 7 feet by 10 feet, with a tiny covered window too high to see out of and nothing inside but a bunk and a toilet. The door contained a slot through which a guard slides a food tray; for many prisoners, this represents their only human contact for the day. These are the conditions in which some 80,000 inmates live on any given day in American prisons and jails. They spend at least 23 hours a day in their cells, and some remain in solitary for years or even decades.
Solitary confinement in our prisons and jails may be the most pressing domestic human rights problem to which most Americans remain largely oblivious. But today, supporters and foes of the practice descended on Capitol Hill for a hearing of the Senate Judiciary Committee Subcommittee on the Constitution, Civil Rights and Human Rights, convened by subcommittee chairman Dick Durbin. An overflow crowd of some 200 spectators came there to witness—somewhat amazingly—the first-ever congressional hearing on solitary confinement.
Durbin opened the proceedings with a surprisingly strong indictment of solitary confinement as it is practiced in US prisons. The senator, who had visited the notorious Tamms supermax in his home state of Illinois and was apparently much-affected by the experience, called on his colleagues to visit prisons in their states and witness the conditions for themselves. "America has led the way with human rights around the world," Durbin said. But "what do our prisons say about our American values?"
America leads the world in solitary confinement, Durbin noted, tracing the rise of supermax prisons and solitary confinement units back to the 1980s and making reference to their damaging psychological effects. He ended by quoting his Senate colleague John McCain, who spent two years in solitary as a POW in Vietnam. "It's an awful thing, solitary," McCain later said. "It crushes your spirit and weakens your resistance more effectively than any other form of mistreatment."
"It's a deterrent and it works," declared the federal prisons chief, before admitting his agency has never studied the issue.
Leading off the testimony was Charles Samuels, director of the Federal Bureau of Prisons. The BOP would be an obvious first target for any congressional effort to reform prison practices, since it is part of the Justice Department and subject to direct congressional oversight. Yet the federal prison system is a serious offender when it comes to the use and abuse of solitary: Samuels offered no figures for the total number of prisoners the BOP holds in isolation, but in 2010 a BOP spokesperson told CNN that there were more than 11,000 inmates in "special housing"—a common euphemism—out of a total prison population, at that time, of about 210,000.
A former corrections officer who rose through the ranks at the BOP, Samuels came off as a consummate bureaucrat. (His predecessor Harley Lappin, forced to resign after a drunk driving incident, now works for the nation's largest private-prison corporation.) Samuels quickly made his position clear: "Segregated housing," as he called it, is a necessary part of prison practice, and is not used excessively in the federal system. It's not a "preferred option," Samuels said, but he went on to say he believes that it helps stop violence and other bad behavior in prison. "It's a deterrent and it works," he declared—though he admitted under questioning that the BOP had never actually conducted studies on the effectiveness (or the effects) of solitary.
At the US Penitentiary Administrative Maximum (ADX) in Florence, Colorado, known as the Alcatraz of the Rockies, prisoners famously live in extreme isolation. But it isn't solitary confinement, Samuels said, because the 490 inmates there have contact with staff. In fact, Samuels admitted, ADX has only two shrinks for 490 inmates. He cited a Colorado study that showed no negative mental-health effects from years of solitary—a study that has been widely debunked.
The next panel threw into question just about everything that Samuels had said. Christopher Epps, Mississippi's corrections commissioner, described how his state had reduced its solitary population by some 85 percent—and a 50 percent drop in prison violence followed.
Isolation, one expert said, can lead to psychosis, self-mutilation, and suicide. "Prisoners have cut off parts of their bodies."
Psychologist Craig Haney, a psychology professor at the University of California-Santa Cruz who has spent his career studying mental-health effects of solitary, described prisoners responses to long-term isolation, which include psychosis, self-mutilation, and suicide. "Prisoners have cut off parts of their bodies," Haney said. He also directly contradicted Samuels' statements about ADX Florence, saying there were mentally ill prisoners housed there who received little care. (The same claim is made in a class-action lawsuit filed yesterday in federal court in Colorado.)
Stuart Andrews Jr., an attorney representing mentally ill prisoners in isolation in South Carolina, argued that prisoners with psychological disabilities are two to three times more likely than others to end up in solitary. Prisons—and especially solitary-confinement cells—have essentially replaced psychiatric facilities as warehouses for the mentally ill. Andrews described the fate of one inmate with mental illness and mental retardation who was locked down in solitary because he had hygiene problems, despite an absence of any violent behavior. He was found "lying face down in his own vomit and feces," Andrews said, and "died of neglect, alone in a cold cell."
One retarded prisoner was found "lying face down in his own vomit and feces," and "died of neglect, alone in a cold cell."
The most emotional testimony of the day came from Anthony Graves, an exoneree who spent 18 years in Texas prisons, 12 of them on death row, and most of those years in extreme isolation. (Journalist Pamela Colloff relates the bewildering story of Graves' lockup and subsequent release in Texas Monthly.) "No one can begin to imagine the effect isolation has on a human being" unless they have experienced solitary, Graves said. He went on, describing the self-mutilation, suicide attempts, and successful suicides that took place around him on death row, concluding that solitary "breaks a man's will to live." In response to people who claim it has no psychological effects, "I say, 'Go live there for 30 days, and then tell me that.'…Solitary confinement makes our criminal justice criminal…It dehumanizes us all."
So what can be done about all this? Sen. Al Franken (D-Minn.) suggested a commission to study the criminal-justice system "from top to bottom," following a plan proposed by retiring Sen. Jim Webb (D-Va.). Both Franken and Durbin spoke approvingly of Mississippi's reform efforts as a harbinger and a model. They spoke of the Prison Rape Elimination Act, which set nationwide standards for how prisons deal with rape and linked compliance to federal funding. A similar policy, experts have suggested, could force prisons to limit or reform their use of solitary confinement. There was talk, too, of having independent mental-health professionals to evaluate prisoners in solitary, and providing outside counsel to represent them, since they are placed in lockdown on the say-so of prison officials who serve as de facto prosecutors, judges, and juries.
"Viewing the mock cell brought tears to my eyes," said a prisoner's wife. "I pictured my husband."
But what is probably needed first of all is a modicum of transparency. Supermax prisons are virtual domestic black sites, cut off from the public and the press, condoned by the courts, and largely ignored by elected officials. Senators could begin by heeding Durbin's call to visit American prisons—and directing the subcommittee staff to undertake a full investigation, with hearings around the country. If they do, they will have the support of advocacy groups including the ACLU, which provided the mock cell in the hearing room, and the National Religious Campaign Against Torture, which organized a press conference after the hearing to break its members' "23 Hour Fast to End 23 Hour Solitary."
Prisoners' families also showed up at the hearing in force. Among them was Irene Huerta, who traveled from California. "As a wife of a prisoner who has been incarcerated for almost 28 years, and most of that time held in Pelican Bay solitary confinement, attending the Senate hearing was very emotional and promising for me," she said. "Viewing the mock cell brought tears to my eyes; I pictured my husband. No human being should endure such torture."
For an archive of written testimony submitted for the hearing, see Solitary Watch.