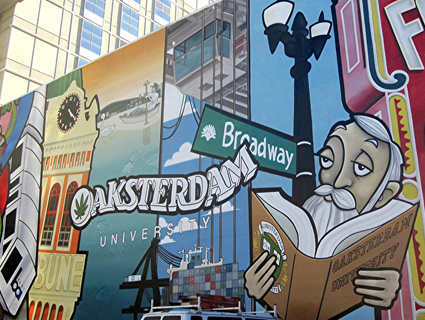 Fight disinformation:
Sign up
for the free
Mother Jones Daily
newsletter and follow the news that matters.
This morning, agents from the Drug Enforcement Agency, US Marshals Service, and Internal Revenue Service served a warrant on Oaksterdam University, a trade school in Oakland, California, for medical marijuana growers. Local pot activist Richard Lee, the founder of "America's first cannabis college," was reportedly detained briefly at his home as the feds began to confiscate documents and pot from the school and a dispensary affiliated with him.
The raid is the latest setback for local "hempreneurs" who'd planned to make Oakland into a mecca for above-ground pot cultivation and commerce. Last year, after the city council voted to approve four industrial-scale grow operations projected to net up to $7.7 million in yearly tax revenue, the Justice Department warned the city attorney that they would be considered "illegal, large-scale pot growing operations, with Oakland planning to get a cut of the illicit profits." The city council gave in, voting 7-1 to put the plans on hold. (For more on the city's pot-induced dreams, check out Josh Harkinson's profile of the guys behind the would-be grower superstore Weedmart.)
The Oaksterdam raid isn't a surprise considering the Obama administration's about-face on medical marijuana. The president campaigned on the promise that he'd stop federal raids on medical marijuana operations that were in compliance with state laws, a vow that Attorney General Eric Holder repeated after the election. But then the Obama administration raided more than 100 dispensaries in its first three years and is now poised to outpace the Bush administration's crackdown record.
The precise cause of the Oaksterdam raid is not immediately clear. Also unclear is whether any charges against Lee would extend beyond medical marijuana production to drug selling or tax issues. (Back taxes are dogging Oakland's Harborside Health Center, the West Coast's largest dispensary.) Yet targeting someone as high profile as Lee sends a strong signal that the feds don't think California's medical marijuana laws shield the state's growers.
"Medicine is not a crime! DEA, go away!" protesters chanted outside Oaksterdam as they passed around a "protest doobie" earlier today. Later, city Councilwoman Rebecca Kaplan told reporters that law enforcement should focus its resources on violent crime. "We have not had crime or violence associated with our dispensaries, and that's because they've been tightly regulated," she said. At least one protester was reportedly arrested after a clash with police, and riot police are now on the scene.
Occupy Oakland livestreamer @OaktownPirate has been reporting from Oaksterdam with the citizen journalism outfit Team Oaktown Live: