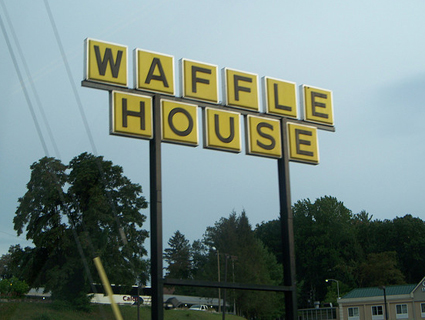 Fight disinformation:
Sign up
for the free
Mother Jones Daily
newsletter and follow the news that matters.
My colleague Adam Serwer reported this morning on one of the more bizarre domestic terror plots in recent memory—the alleged plot by four senior citizens in north Georgia to produce and spread ricin and botulinium toxin in Atlanta and Washington, DC, in order to kill millions of people and "save the Constitution." (Because that's not strange enough, the plot was hatched at a Waffle House.)
The whole plot is pretty ridiculous, but what's also interesting is the men behind it. The affidavit names four individuals, Samuel Crump, Frederick Roberts, Ray Adams, and Dan Roberts. According to his Facebook page, Crump is a big fan of a number of conservative grassroots and astroturf organizations, including Americans for Prosperity. He's also interested in "anything about guns," and he's really offended by the concept of paying a 5 cent tax on plastic grocery bags:
Another conspirator, Dan Roberts, is a long-time Confederate flag activist. In 2001, a Jacksonville Times-Union story about the state of Georgia's efforts to change the flag noted Roberts' presence outside the statehouse. According to the paper, Roberts had attempted to burn a replica of the newer flag (with a smaller Confederate emblem), but failed to do so because it was made out of nylon.
In 2004, Roberts joined with the white supremacist Council of Conservative Citizens to hold a protest rally outside a Georgia middle school whose principal had supposedly offended their southern culture "by her alleged banning the display of St. Andrew's Cross on school grounds," the local Toccoa Record reported. According the Record's account of that event, protesters threw a rock at school bus with children inside.
An ensuing lawsuit noted of Roberts that he "co-sponsored and assisted in flag rallies organized by the Southern Rights Association," and "is widely known in that area as a flag supporter." Roberts was a "Captain" and Northeast Georgia Liaison for the Georgia Militia, a neo-Confederate organization. (Here's a photo gallery from a 2003 Confederate flag rally in Toccoa for which Roberts was the emcee.)
In an ironic twist, Roberts published a letter to the editor of the Toccoa Record in late September to complain about a local publication, Bad and Busted! that posts embarrassing mugshots and arrest details.