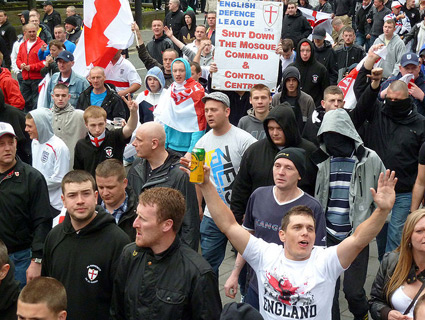 Fight disinformation:
Sign up
for the free
Mother Jones Daily
newsletter and follow the news that matters.
If you're the leader of a loud, disorganized European hate group, you've probably figured out by now that the best way to recruit followers is the same way Ashton Kutcher does it: use Facebook, Twitter, and Myspace.
A lot.
The AP reports that European hate groups—including the English Defence League, an organization that Norway terror suspect Anders Behring Breivik claims to have communicated with—are increasingly relying on social networking sites like Facebook to recruit members.
In just two years, EDL membership has shot up from a few dozen to more than 10,000, a dramatic increase that EDL leader Stephen Lennon attributes to popular websites, as well as underground online fora. The AP has the interview:
I knew that social networking sites were the way to go…[b]ut to say that we inspired this lunatic to do what he did is wrong. We've never once told our supporters [it's] alright to go out and be violent.
Lennon, who was sentenced to "community rehabilitation" in England this week for inciting and leading an EDL street fight, isn't the only far-right (or far-left, or far-anything) organizer using Facebook for maximum publicity or reach. All sorts of anti-Muslim and racist cliques have been greatly supplementing their blog-based fulminations with modern social media, and they often do so unimpeded because sites like Facebook claim to uphold "the sharing of controversial ideas and opinions." (Facebook's methods for selecting what stays and what gets pulled frequently seem, well, curious: for instance, Holocaust denial stays, but UK labor strikes get the boot.)
It's not all bad news. Buried in the AP report is a short paragraph on law enforcement's mixed feelings regarding the groups' online recruitment:
On one hand, [intelligence and law enforcement officials] recognize the potential for recruiting groups or individuals into violent movements. On the other, the sites allow officials to track and catch perpetrators. Germany's interior minister, Hans-Peter Friedrich, told local media this week that he's more worried about extremists who go underground and "radicalize in secret."
That's a good point. When white nationalists and "racial realists" start pumping out tweets and web comments, it makes them much easier to locate. A trail of un-deletable evidence comes in handy when you want to prosecute someone for crimes against humanity.