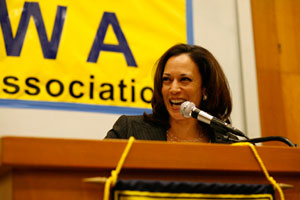 The midterm elections were last Tuesday. But in California, the high-stakes battle to control the state attorney general's office rages on.
The race between Los Angeles district attorney Steve Cooley*, a Republican, and San Francisco district attorney Kamala Harris, a Democrat, is one of the only statewide races in the country that remains undecided. It's a contest that matters nationally. In October, the Sacramento Bee's Dan Morain reported that the Republican State Leadership Committee, a group that works to elect GOP state legislators, attorneys general, and other state officials, had jumped into the Cooley-Harris fight. The Harris campaign criticized the RSLC's intervention, pointing out that it received over a million dollars from tobacco companies and its chairman, Ed Gillespie, had co-founded the shadowy outside spending group American Crossroads with Karl Rove. But the RSLC's $1 million ad buy in favor of Cooley, in the closing weeks of the campaign, may well have had the desired affect: Harris and Cooley are neck-and-neck with lots of votes still left to count. (State officials have to finish the count by November 30.)
There's much at stake in the Cooley-Harris battle, which explains why Gillespie's operation would target the race. Should Cooley win, he would immediately become a top-tier GOP candidate for higher office—senator or governor. Harris, who has both Jamaican and Indian ancestors, would be the first California AG of either ethnicity, the first woman elected to the office, and the first Indian American state attorney general in the nation. She, too, could eventually run for Senate or the governorship—if she wins. The outcome will also effect the struggle over Proposition 8, the California ban on gay marriage. Harris has vowed that she will not defend the measure in court.
Perhaps most important, state AGs play a key role in reining in corporate excesses. Some former state AGs, like Dick Blumenthal in Connecticut or Andrew Cuomo in New York (now Sen.-elect Blumenthal and Gov.-elect Cuomo, respectively), earned themselves the enmity of corporate America—and the thanks of voters—for their aggressive pursuit of tobacco companies and Wall Street, respectively. California is much bigger than New York or Connecticut, and the AG there can have a greater impact on national issues than Cuomo or Blumenthal have had as AGs. Consequently, the tobacco, insurance, and gambling interests that fund the RSLC have good cause to make sure Harris isn't elected.
Attorney general contests often don't receive much attention from the media and voters. But the ongoing Cooley-Harris face-off is a race that warrants national notice. If folks like Gillespie and Rove are involved, that's reason enough to pay close attention.
*This originally said "Chris Cooley." That's wrong. Steve Cooley is the Los Angeles district attorney. Chris Cooley is a tight end for the National Football League's Washington Redskins. Sorry.