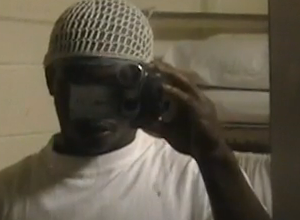 Fight disinformation:
Sign up
for the free
Mother Jones Daily
newsletter and follow the news that matters.
Last night HBO ran a documentary shot by an inmate living in solitary confinement at New Jersey's Northern State Prison in Newark. The prisoner, Omar Broadway, a member of the Bloods gang, had served 7 years in solitary on various felony charges in the prison's Security Threat Group Management Unit. Sympathetic guards smuggled a camera into his cell, and Broadway shot his footage over a six-month period beginning in 2004. It became the basis for a film that premiered at this year's Tribeca Film Festival before being acquired by HBO.
In recent years there have been quite a number of television documentaries shot in prisons, sometime in their supermax units; these include the National Geographic Channel's Lockdown series and MSNBC's Lock Up. But as a review in the Boston Globe points out: "There is a distance to all of them from the inner reality of those institutions. Such efforts are almost always approved by corrections officials, and we see very little of the life those officials don't want us to see."
Broadway's film is something different. Here's more from the Boston Globe review:
Despite limited camera range because of the small opening in his cell door, bad lighting, and jumpy camera work, he presents hallucinogenic sights and sounds of prison life—the remote echoes of voices, blurry frames of cell bars, indistinct figures of guards, inmates in their cells engaged in furious shadowboxing…

Most shocking are the protests by prisoners who refuse to return to their cells. They cover themselves in plastic to minimize the effects of pepper spray from the guards in riot gear, who charge in force. The guards quickly overwhelm the prisoners and beat them on the floor. Broadway chronicles a number of these ghastly rituals. The prisoners know what to expect, yet wait for the onslaught anyway, out of bravery or nihilistic resignation.

[The film] one chronicles the appalling prisoner abuse by guards as well as the terror of the officers working there. The guards are a gang in their own right, formed to protect themselves from very dangerous men who are behind bars 23 hours a day. There exists a vicious intimacy between the two camps.
Perhaps the saddest chapter in the film is what happens once the footage is smuggled out—though after covering this subject for a while, I can't say that it surprises me.
Broadway expects outrage from the public when it sees the footage. Not a chance. A local network affiliate airs some of it without result. Oprah Winfrey never responds to a request to air it. Broadway's mother tries to sell DVDs of the footage on the streets. She sells 32.
Below, in the trailer, are a few shots from An Omar Broadway Film:
This post also appears on the Solitary Watch blog.