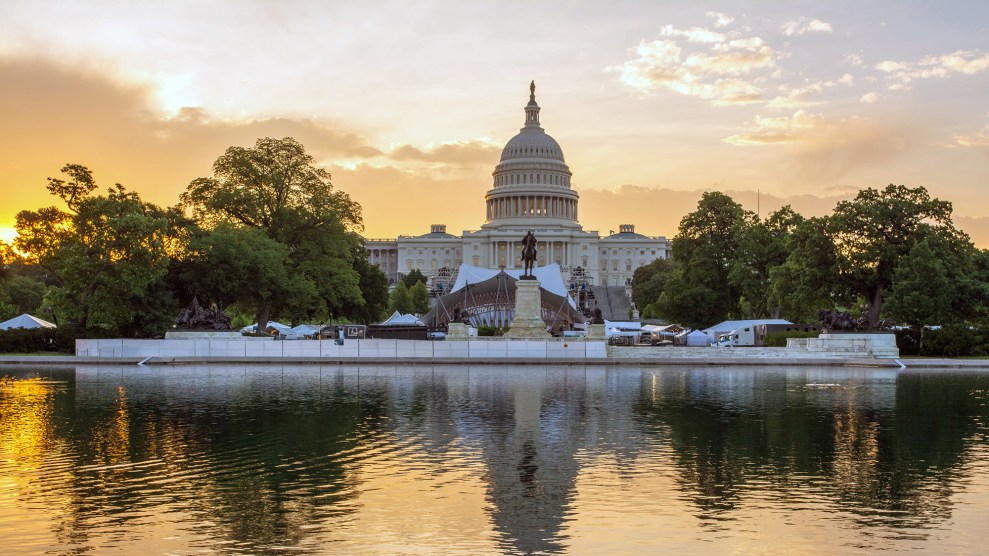 Fight disinformation:
Sign up
for the free
Mother Jones Daily
newsletter and follow the news that matters.
Now that Jon Ossoff has defeated Republican incumbent David Perdue in the Georgia Senate runoff, what will Democrats do with control of both houses of Congress for the first time since President Obama's first term? Mother Jones voting rights reporter Ari Berman has been tracking major legislative proposals to expand ballot access and even the political playing field. But for Democrats to enact H.R. 1, the big voting rights bill that passed in the House of Representatives in 2019 but failed to pass in the Senate, and other key legislation, they'll have to get rid of the filibuster first.
"This was a referendum on whether Joe Biden should be able to get his agenda through," says Berman on the Mother Jones Podcast. "The voters spoke very clearly. They want a Congress that would work with Joe Biden, not obstruct him."
Berman gives his analysis of the Democrats' potential top priorities as they take control of the Senate. Read his analysis below and listen to the full interview with host Jamilah King on the Mother Jones Podcast.
Jamilah King: Ari, what was your first reaction to the news [from Georgia]?
Ari Berman: It was stunning. It was honestly stunning. I was surprised when Joe Biden carried Georgia. Runoff elections were designed specifically to prevent Democrats from winning and to prevent Black candidates in particular from winning. So to have it be announced that Raphael Warnock is the first Black US senator from Georgia, and the first Black Democratic senator from the South, it felt far more historic than even Biden's win.
Ari, what do you think Democrats should immediately with the ability to pass legislation?
First off, they just need to get all of their people confirmed, which is going to be a lot easier now. They can confirm judges with 50 votes and Kamala Harris breaking the tie. They can now confirm Biden's entire Cabinet. On a longer-term basis, they need to think about what they're going to do for bills that require more than 50 votes. [Mitch] McConnell is going to try to use the filibuster and require 60 votes for every major piece of legislation.
If Democrats want to get through transformative legislation to restore the Voting Rights Act, or legislation to create accountability for the police, or legislation to deal with health care or climate change or immigration or all these other issues, I believe they're going to have to get rid of the filibuster. Which is, as Barack Obama said, a legacy of Jim Crow that allows a small minority of senators to block legislation supported by a majority of Americans.
Basically Democrats have to decide, do we give Mitch McConnell veto power over practically every piece of legislation? Or do we have a mandate for transformative change? I believe they have a mandate for transformative change. I believe the Georgia election showed that very, very clearly, because this in many ways was a referendum on whether Joe Biden should be able to get his agenda through. And the voters spoke very clearly. They want a Congress that would work with Joe Biden, not obstruct him.
What about voting rights legislation?
I think voting rights legislation has to be an absolute top priority. Not just because of the voter suppression that we saw throughout the run-up to the election, but because of all the attempts to try to subvert the election after. We saw way too many voting problems in places like Georgia, whether it's blocking voter registration drives, or closing polling places, or making people wait 11 hours to vote.
The House has already passed this legislation, they've already passed a bill called H.R. 1, the For the People Act, that would reform American democracy in all sorts of ways. They've already passed legislation to restore the Voting Rights Act, which is now called the John Lewis Voting Rights Act. I think that if there was any message coming out of Georgia, and coming out of the fact that Black voters turned out in record numbers to elect two Democratic candidates, it's that we need to restore the Voting Rights Act. We need to honor John Lewis, not just with words, but with action. I believe this needs to be a top priority for Democrats. If they can't get Republican support for these pieces of legislation, they need to be willing to get rid of the filibuster to be able to pass it and transform American democracy.
Tell us how Democrats managed to increase turnout, especially Black turnout, to win?
Stacey Abrams had this vision of what she called a new American majority in Georgia, where communities of color, young voters, and women would join forces to turn the state blue. It seemed like a pipe dream in the in the early 2010s, when Georgia was solidly red, but she saw that there were hundreds and hundreds of thousands of unregistered voters in the state. The demographics of Georgia were changing, but they needed to be activated and mobilized. So she did that by first by starting a group called the New Georgia Project. Then, of course, she ran for governor. Then she started a new group, Fair Fight Action, which in coalition with a lot of other groups tried to make real the promise of her gubernatorial campaign.
You saw the first results of that in November. But a lot of people thought turnout was going to be down significantly in the runoffs. People were fatigued because of the election, it was taking place over the holidays, COVID was spiking once again in Georgia, and it was just very easy to imagine a situation where a lot of people stayed home. The fact that turnout looks like [it's] going to be 90 percent of what it was in the general election is just incredible. It looks like Black turnout is actually going to increase from November to January, which is just astonishing. More people voted in a runoff election for US Senate than for a presidential campaign. I think it's a testament to the fact that Abrams has a playbook of engaging communities of color, of organizing against voter suppression, of talking about issues that people actually care about, not these scripted, watered-down messages. I think this is a blueprint not just for Georgia, but for the entire Democratic Party, that people are going to be studying very, very closely in the years ahead.